When Google moved into its new Asia Pacific headquarters at Mapletree Business City in 2016,  it wanted to ensure its office space reflects the diversity of its people - but with a local twist.
Speaking to Human Resources, a Google spokesperson said: "Our office is laid out by 'kampongs' (Aljunied, Bugis) and our meeting rooms are named after locally spoken languages, MRT stations (Dhoby Ghaut, Outram Park), and local phrases (e.g. Huat Ah, Steady Pom Pi Pi)."
While designing the work space, collaboration and the freedom to innovate were at the top of mind. The new headquarters features various flexible office spaces, from open spaces for collaboration and quiet spaces for individual work, empowering employees to choose the kind of workspace that best suits their working style and the task of the day.
"Everyone is equal in Google -- there are no private offices. Careful planning is also taken to ensure a workplace that encourages movement -- high collaborative tables, sit-stand desks, and standing meeting rooms get Googlers moving as they interact to improve overall health and well-being."
To encourage innovative thinking, Google has various Immersion Rooms where Googlers can hold ideation sessions. With themes like a biker bar and junk shop, the rooms are filled with knick knacks that are there to encourage playful thinking.
"We all need to get out of the everyday mundane and immerse ourselves in a new environment to stimulate new ideas.
"For example, Google Cardboard was created in Paris by two Cultural Institute engineers. They spent a weekend making it out of cardboard boxes, brought it to our Mountain View campus, and in a few weeks, we distributed it at our annual developer event Google I/O."
Apart from the various rooms, the tech company also created an Atrium as a gathering point to bring everyone together (clients, users, partners and employees) and showcase the technology, culture and innovation that is Google.
"Through this space we want to break down silos and the disconnect that can happen in large workplaces."
The office also features gardens and green spaces which make for temporary work spaces for a more calming and productive environment.
With Google being a tech company, it is not surprising to find technology at the heart of Google's workplace. The main tools Googlers reach for is the G Suite, a set of intelligent apps - including Gmail, Docs, Drive, Calendar, and Hangouts - which is designed to bring people together with real-time collaboration built-in from the start.
"Googlers use technology to automate time-consuming tasks at work and stay organised, productive and efficient.
"We believe that when organisations connect people and empower them to work together, we get the speed, agility and impact needed to compete in today's market."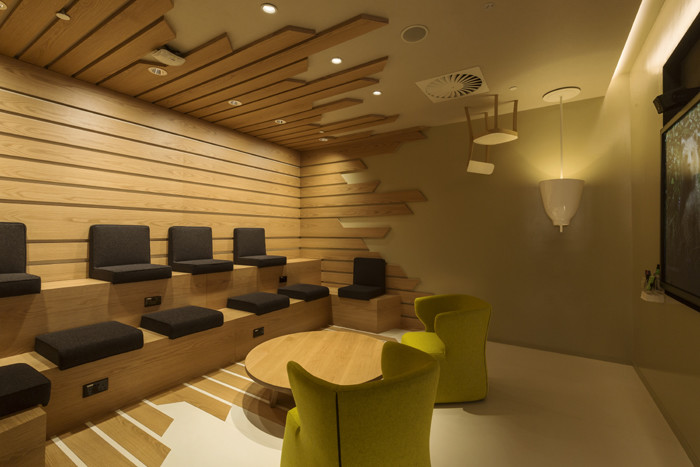 Believing that healthy employees are happy employees, Google has a food programme that provides employees with delicious and nutritious meals, snacks, beverages and coffee available throughout the day.
"This way Googlers can focus on doing great work, connect with each other over a meal and not have to worry about packing a lunch. Google recognises that ideas can be spontaneous so spaces are designed to maximise the likelihood of casual interactions. The idea of Gmail was created when two Googlers from Sales and Engineering were dining at our cafe in Mountain View."
But food is just one part of health and well-being. The company also has a fitness and wellness center to help Googlers gain greater control of their well-being and achieve a healthy work-life balance.
"A gym and studio space is open 24/7 and Googlers can sign up for weekly classes or reach out to the onsite personal trainers for fitness consultations. A wellness center also houses a nail and hair salon, massage parlor and sleeping pods."
Being an organisation that values diversity and inclusion, the office also features a Multi Faith Room which employees can use for prayers and meditation.
Photos / Google